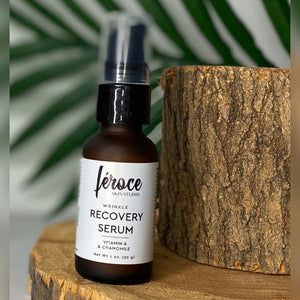 WRINKLE RECOVERY SERUM
•Reduces the appearance of wrinkles
•Visibly improve the look of firmness & elasticity
•Enhances uneven skin tone and complexion
Retinol is the No. 1 dermatologist-recommended treatment for aging skin. This star ingredient promotes skin renewal and enhances stimulation to visibly improve the appearance of firmness and elasticity.
Our Wrinkle Recovery Serum contains .5% Retinyl Palmitate (Vitamin A) and CoQ10, which reduces the appearance of fine lines, wrinkles, and age spots. The formula contains Chamomile extract and Carrot extract to counterbalance potential irritation resulting from using a retinol treatment.
This lightweight silky serum also helps skin lock in moisture – even after washing your face. With consistent use over time, you will experience revitalized skin and unparalleled softness and appearance of brightness.
Must try!
Just recently added this product to my routine, which are about 80% all Féroce products. The smell is lovely first off. It feels like silk while applying it to my skin. Definitely see an improvement of my skins firmness during this first week of use! I highly recommend all of her products. Probably the first time I've ever incorporated so many products from one line in my routine!
You have to have this!
Product is creamy and pleasant but more importantly, it's improving my skin. I was just told after a few weeks of using this product that I look younger!
Great
This is a great product to have for your skin to help keep the wrinkles at bay. Absolutely love it!!
I absolutely love this product! Added it to my collection a little later, but so glad I did. I definitely see an improvement in my fine lines, especially around my mouth and cheeks. Also helped decrease the size of my pores by A LOT. A little most definitely goes a long way. The smell and consistency is perfect and it literally melts into your skin and makes it feel fresh and "tight" (in a good way)!
Wrinkle Recovery Serum Vitamin A)