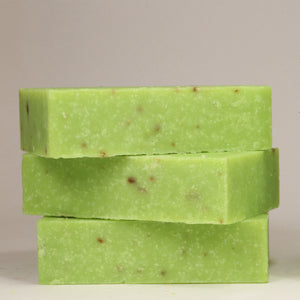 Our Wakame Scrub soap loaves are hand-crafted right here in the USA
Description: Wakame is a type of sea kelp native to Japan. When applied to the skin it has tremendous nourishing benefits.  It's loaded with vitamins and minerals that nourish the skin, including B-Complex vitamins, potassium and calcium. And it is added in generous quantities to our Wakame Scrub Soap. It smells fresh and clean and has a soft creamy lather that will leave you feeling smooth and pampered.
Very strong and clean scent. Sage and other mild greens. Contains sea salt, peppermint leaves, and ground oatmeal as exfoliants.
Ingredients:
Olive Oil
Soybean Oil
Coconut Oil
Corn Oil
Soybean Oil
Organic Shea Butter
Water
Sodium Hydroxide (Lye)
Fragrance
Ground Oatmeal
Peppermint Leaves
Colorant
INCI: Olea Europaea (Olive) Oil, Glycine Soja (Soybean) Oil, Cocos Nucifera (Coconut) Oil, Zea Mays (Corn) Oil, Helianthus Annuus (Sunflower) Seed Oil, Butyrospermum Parkii (Shea Butter), Aqua, Sodium Hydroxide, Fragrance. May contain FD&C color.
Please note that due to the handmade nature of this soap, color shades and swirl styles may slightly vary. Each bar is unique!
Handmade soaps
Just finished up one of the lovely handmade soaps. I don't think I could go back to a store bought body wash. Feroce skins products are all lightly scented and refreshing. My skin doesn't feel dry or stripped after using these soaps. I feel CLEAN. definitely will be trying all of her other ones!
Love !
Everything this brand offers I love ! This soap is heavenly scented ♥️
Best Soap Ever!
This soap makes washing your face something you look forward to! I didn't think it was possible for a soap to be gentle but also exfoliating, but this soap delivers. My skin feels soft, clean, and smells so great!
Renewed nourished skin
Eczema causes areas of inflamed skin on my elbows and knees that leave persistent dry patches as they heal. Finding a soap that gently exfoliates while leaving my sensitive skin moisturized has been a tremendous relief. From the packaging to the soothing lather and light fragrance, the Wakame soap offers a luxurious bathing experience. I highly recommend this product.