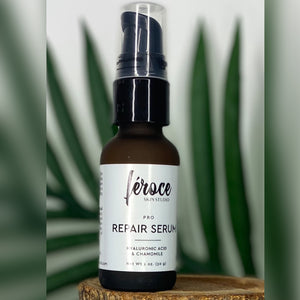 PRO-REPAIR SERUM 
Advanced HA serum for revitalizing dehydrated skin.
Replenishes skin's moisture to visibly improve texture
Deep, long-lasting hydration visibly reduces fine lines & wrinkles
Improves appearance of firmness and elasticity
You will instantly fall in love with the rose-scented Pro-Repair Serum featuring star ingredient, Hyaluronic Acid. HA is not just a trendy filler, it's naturally produced in the body and is capable of holding 1,000X its weight in water, in turn replenishing moisture that is crucial for younger-looking, plump skin.
Pro-Repair Serum's exceptional hydration gives you that hydrated glow ☀️for visibly younger-looking skin. It hydrates and pulls moisture from the air to keep skin hydrated.
This unique formula combines HA and complex vitamins to revitalize and rejuvenate skin, helping improve the appearance of smoothness, firmness, and elasticity.
Does exactly what the name says. Makes your skin feel fresh and repaired. Not thick or greasy feeling at all. This is my daily go to!
Magic in a jar!
This serum not only smells amazing but it also leaves your skin feeling soft smooth, and glowing! Definitely recommend!