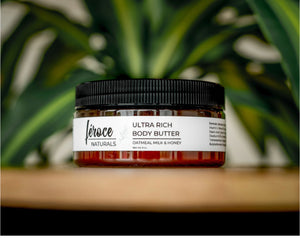 Caring for your skin is essential to aging and health. But pampering it shouldn't have to take hours. Skin loving ground oatmeal, coconut milk & lovely golden honey make for perfect ultra-luxurious butter. Base oils and butters offer a rich creamy feel. Honey is known to condition & moisturize the skin. It is also a natural humectant (draws moisture from the air to the skin & helps retain the skin's moisture).  This rich and creamy Body Butter is scented with Oatmeal Milk & Honey--a warm, creamy and comforting scent of oatmeal topped with a sugary note of fresh honey and light almond. 
Your skin will absorb our butter within seconds, pampering you with long lasting hydration. This thick and creamy formula is ideal for all skin types and will work overtime to protect your skin dryness. Look no further for an expertly formulated body butter that's scented with natural Fragrances!
Description: 8oz. premium quality ultra rich Oatmeal Milk & Honey Body Butter 🍂
Goodies in this Body Butter:
Shea Butter /Mineral Oil - Moisturizes and reduces water loss from skin; Moisturizer that works best in cold cream.
Sunflower Oil - Antioxidant
Hempseed Oil - Moisturizes without clogging pores
Vitamin E Oil - Anti-inflammatory; Calms skin (good for eczema)
Coconut Oil - Anti-Bacterial; Anti-Fungal qualities
Aloe Vera - Rich in Vitamins A and C; highly anti-inflammatory; helps treat surface acne
Oatmeal Milk & Honey Body Butter🍂
Wonderful
I love how the body butter moisturizes my skin, it feels really soft and the scent is amazing, it's light but you know it's there. I wish it came in a bigger jar.
AMAZING!
My Skins moisturized all day after application in the morning after a shower , love how smooth it leaves my skin especially during this season. And let's not forget the smell ! Smells amazing. Love love love this product.
I love this product!
The Oatmeal Milk and Honey Body Butter does all that is promised in the product description plus it smells amazing. One of my new favorites!
Absolutely AMAZING
I've purchased this product 2x and I SWEAR BEST butter yet!!! I love how smooth my skin feels and how long it LASTS!! And the smell is Everything!! I won't use ANOTHER!!!