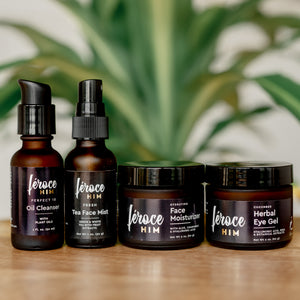 Cleansing Oil :
This Oil Cleanser is a dynamic combination of all-natural oils that cleanses skin without leaving behind a greasy residue. In turn, the skin appears nourished, smooth, and bright. This product is formulated with 10 naturally derived oils that work together to deeply restore and maintain moisture. Its clarifying and detoxifying properties also make it the perfect makeup remover. Its high antioxidant content helps reduce the appearance of fine lines and wrinkles while providing a natural defense against environmental stressors. The result will leave skin plump, radiant, and incredibly renewed.
CUCUMBER HERBAL EYE GEL
A cooling gel for fresh youthful eyes✨
Reduces the appearance of puffy, tired eyes & dark circles
Helps plump & smooth the appearance of fine lines
Calms & hydrates the delicate eye area
Decrease the appearance of eye fatigue, puffiness and dark circles. This baby blue cooling eye gel will calm and soothe the appearance of tired-looking eyes. This formula contains caffeine to awaken and revitalize the appearance of the skin around the eyes. This fast-absorbing gel will improve the appearance of youthful suppleness.
Natural sugars and vitamins E and K will continue to hydrate and smooth the appearance of the delicate skin around the eyes. Complex of botanical extracts: Aloe, Shea, Avocado, Cucumber, Coffee, Eggplant, Jojoba, Basil, Turmeric, Ginger.
Face Moisturizer
Enjoy non-stop hydration with this powerful daily face moisturizer. The fast-absorbing, non-greasy formula will instantly hydrate and quench skin, regardless of the type. The lightweight gel-based cream contains a clinically supported technology that helps skin create its own internal water source for continuous hydration, delivering 2X the moisture boost by day's end. It then continues to hydrate for up to 72 hours - even after washing and cleansing.

This moisturizer is enriched with our unique Vita-plex'" blend, a powerful antioxidant combination of Vitamins E, C, and B that will leave skin feeling supple and dewy. Along with hyaluronic acid and aloe, which boosts the skin with needed hydration, this lightweight rose-scented cream is packed with humectants and polymers that also help lock in moisture and smooth dull skin.
Charcoal Mask
Masks are one of the hottest trends in the beauty industry. The powerful combination of charcoal and three triple-action clays will leave your skin smooth, naturally exfoliated, and enriched.
This indulgent formula acts as a magnet to capture deep-set impurities and toxins. While most masks tend to dry skin, this combines the powerful technology of lecithin, which acts as a humectant to retain moisture and provide the nourishment skin needs.
I highly recommend Feroce skin care line. The product and owner are absolutely amazing. Awesome customer service.