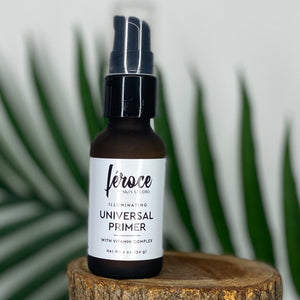 This unique vitamin-rich essential formula smoothes, hydrates, and revitalizes while preparing skin for long-lasting makeup wear. You will want to incorporate this illuminating primer in your daily regimen. Energized with our exclusive fresh rose complex, this silky serum naturally hydrates and controls oil, giving the skin a dewy, pearlescent finish. A rich combination of Vitamins B, E, and C feed the skin to visibly improve the appearance of enlarged pores, uneven tones, and fine lines. Much like an energy drink for the skin, this water-based formula replenishes moisture levels and creates the perfect canvas for makeup application and effortless beauty. Give your skin a rosy, radiant glow with this beauty lover's must-have.
Smooth!
Love the brightness this adds to my skin but more importantly, my makeup goes on smooth and my skin appears more hydrated.
Love this primer
I wear it without makeup and it makes your skin glow!!!
Illuminating Primer
I love how my skin glows with this beautiful and silky primer before makeup application even wearing it alone after using moisturizer.
Love it!
I absolutely love this Primer. It gives you such a beautiful glow, you can just wear without makeup! It's truly a Must Have!
I LOVE THIS SO MUCH! Gives you the most natural glow and highlight. No need for any makeup--but if you want you can mix it with a little bit of concealer and it comes out amazing, airbrushed natural look (little tip from the best, Di). I call this my unicorn magic because the color of the product alone is BEAUTIFUL. haha reminds me of a rainbow