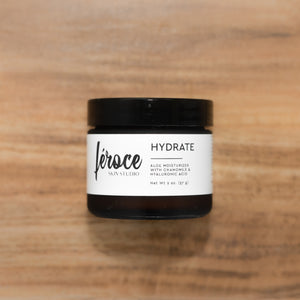 Enjoy non-stop hydration with this powerful daily face moisturizer. The fast-absorbing, non-greasy formula will instantly hydrate and quench skin, regardless of the type. The lightweight gel-based cream contains a clinically supported technology that helps skin create its own internal water source for continuous hydration, delivering 2X the moisture boost by day's end. It then continues to hydrate for up to 72 hours - even after washing and cleansing.
This moisturizer is enriched with our unique Vita-plex'" blend, a powerful antioxidant combination of Vitamins E, C, and B that will leave skin feeling supple and dewy. Along with hyaluronic acid and aloe, which boosts the skin with needed hydration, this lightweight rose-scented cream is packed with humectants and polymers that also help lock in moisture and smooth dull skin.
Clean ingredients, great products !
I have very sensitive skin and am very picky with what I can use of my face. I love Feroce skin products. The cleanser keeps my face super clean and helps to prevent breakouts. The moisturizer helps fight again dry skin and keeps my skin hydrated even through the winter !
Love love love this product! Has worked wonders during my accutane journey! It's a heavy hydrating product that leaves the skin smooth, no oily or greasy appearance!
Morning refresher!!!
I love how hydrating the moisturizer feels after my morning shower. It's like I instantly glow!!
Hydrating Moisturizer
This is one of my faves it's so nourishing and rich yet not too oily or sticky!
Hydrating Face Moisturizer