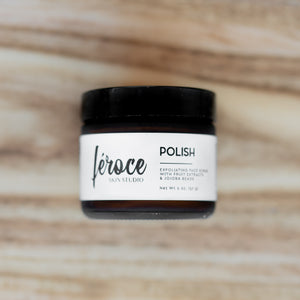 EXFOLIATING FACE SCRUB
Instantly rejuvenate with our clean and green face and body scrub made from our blend of nourishing vitamins and fruit extracts. The aroma of vanilla, coconut and anise is sweet and soothes the skin during exfoliation.
I love it!
Smooth, thick creamy feeling with exfoliate. Smells great and leaves your skin smooth and glowing. I use it two times a week. My skin always feels refresh after using. By far my favorite to use.
So far it's great!
A couple weeks into my new skin care routine and I love it!! The scrub works wonders and the whole line leaves my face feeling refreshed!
Feels great
Féroce Skin Studio products never ceases to amaze me. The Exfoliating Face Scrub in no exception. Leaves me skin feeling great.
Exfoliating Scrub
I absolutely love the exfoliating scrub already & I been using it a week now my face feels amazing & clean & extremely soft
Exfoliating face scrub
I absolutely love love love this exfoliating face scrub. It makes my skin so soft.