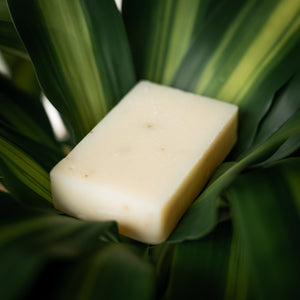 Our Eucalyptus Aloe soaps are hand-crafted right here in the USA , with the highest quality ingredients, to ensure each bar is a premium product that you are sure to love. 
Description: Aloe & Eucalyptus soap is uniquely blended with natural eucalyptus oil and soothing aloe vera, a natural remedy specially formulated to rehydrate, clean and moisturize the skin. Our refreshing soap is enriched with a blend of essential oils to nourish and condition the skin. Blended with fresh peppermint leaves to gently exfoliate the skin. Formulated to create a luxurious lather and sensual aromatic bathing experience, how amazing this premium soap leaves your skin feeling clean, moisturized, smooth and revitalized. Our soap is a wonderful addition to your natural and organic skincare routine - chemical & preservative free - GMO-free - Handcrafted in small batches - Perfect for all skin types.
Ingredients:
Olive Oil
Soybean Oil
Coconut Oil
Corn Oil
Sunflower Oil
Organic Shea Butter
Water
Sodium Hydroxide (Lye)
Peppermint leaves
Fragrance
INCI: Olea Europaea (Olive) Oil, Glycine Soja (Soybean) Oil, Cocos Nucifera (Coconut) Oil, Zea Mays (Corn) Oil, Helianthus Annuus (Sunflower) Seed Oil, Butyrospermum Parkii (Shea Butter), Aqua, Sodium Hydroxide, Fragrance. May contain FD&C color.
Please note that due to the handmade nature of this soap, color shades and swirl styles may slightly vary. Each bar is unique!
Aloe soap
I absolutely love it!! I will be placing my next order pronto!!!!
Best Stocking Stuffers, Teachers, Hairdressers Gifts! Gifts
I am a huge fan of your green soap, but cannot wait to give these and the Almond Coconut variety in my Christmas boxes I mail to 2 friends back home! LOVE these soaps and can't wait to try these!
Eucalyptus Aloe Sosp
I love this soap! I think ive bought over 20 since they were introduced. Honestly its This businesses whole vibe for me. Her whole business concept and the way she educates her clients. I will be a custimer for life!
BEST SOAP EVER!!!
I JUST LOVE THE WAY IT LEAVES MY SKIN FEELING SO HYDRATED SOFT AND IT SMELLS AMAZING LIKE A SPA!!!!
Just Amazing!!!
This is by far the best all natural soap I have tried my skin feels amazing after a few uses omg definitely a happy customer!!