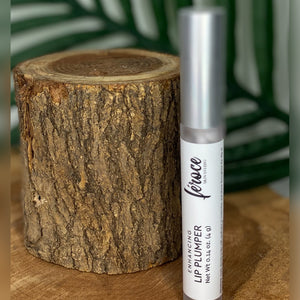 ENHANCING LIP PLUMPER
A silky lip balm that helps support the look of fuller, softer lips
 KEY BENEFITS
•Soft and silky lip balm
•Moisturizes dry lips
•Helps support the look of fuller lips
Our Enhancing Lip Plumper is a soft and silky lip balm that helps support the look of fuller lips. Our cream, non-sticky formula helps hydrate and soften the lips with a sweet, peppermint flavor.
The flowering succulent, Pink Purslane Extract, also known as "Kiss Me Quick", gives the lips a boost of support. Botanical Extracts found in mushrooms help rejuvenate the appearance of the lips.
In an easy, no-mess applicator, our Lip Plumper provides a refreshing tingle when applied throughout the day.
The lip plumper and the lip balm are like magic. My lips were dry, chapped and in pain, no other lip products seem to work until I ordered this and within 3 days my lips were back to feeling moisturized and looking smooth again. ☺️
Necessary!!!!!
I have big full lips, so I'm more prone to chapped lips. I loved to use this before I put on lipstick. It hydrated and restores my lips making my lipstick look prettier!
Excellent Product
This lip Plumper is excellent for your lips. Due to wearing a mask the majority of the day my lips have gotten dry...real dry. The lip Plumper makes your lips feel smooth, and it definitely feels good on.
Gives a healthy plump moisturized look and feel to your lips that lasts ALL DAY LONG. Love this.