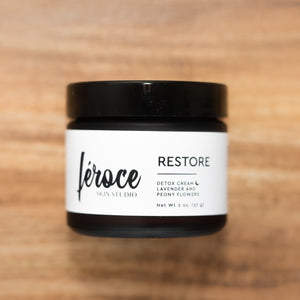 DETOX NIGHTWEAR CREAM 
( with lavender & peony flower ) 
Nighttime moisturizers are taking over the marketplace and redefining the meaning of beauty sleep. This light-weight smoothing cream visibly rejuvenates skin texture, nourishing the skin with an abundance of vitamins.
This luxurious cream not only visibly firms and lifts, but also helps even tone. Paeonia Flowers cleanses, for a radiant and dewy glow. The natural lavender scent helps you relax, and recharge your skin while you sleep.
Restore night cream
I can say I definitely look forward to completing my AM and PM skincare routines now, with Di's plant based products. The scents are so uplifting and the consistency is not sticky. I've seen such an improvement in my skin since incorporating some of her products in my routine. Once I finish all my previous products. I plan to incorporate all of her skin care line into my routine. I seriously can't wait!
A must
Di's facials are the best self care one can ask for. You'll leave feeling amazing.
Detox nightwear cream
The best moisturizer you'll ever use , love this product!
Awesome
Love how the nightwear cream leaves my face feeling nice and soft. No sticky residue and the scent is relaxing. It's the best with the other products.
Refreshing
I love this night cream, its refreshing and light. As soon as I put it on I feel relaxed. My daughter and I both use it at night before we go to bed and its the best ever. LOVE IT!!!