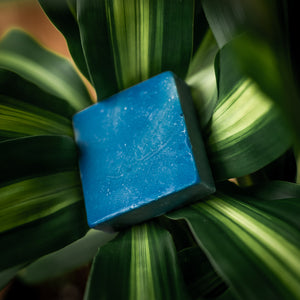 Our Charcoal Black Soap is hand-crafted right here in the USA, using the highest quality  ingredients, to ensure each bar is a premium product that you are sure to love. 
Description: Our soaps are scented with essential oils so they work well with all skin types. Crafted by hand, our all-natural bar soap is made with 3 kinds of sustainable oils: olive, sunflower and a moisturizing coconut, and then scented with the finest essential oils. Following traditional cold-process techniques, Each batch is measured mixed, and hand-cut. The result is an all natural soap that cleanses, moisturizes, and revives your skin.Our take on the traditional African Shea soap. Oakmoss and aloe top notes with light floral undertones. Contains activated charcoal.
Ingredients:
Olive Oil 
Soybean Oil
Coconut Oil
Corn Oil
Sunflower Oil
Organic Shea Butter
Water
Sodium Hydroxide (Lye)
Fragrance
Activated Charcoal
INCI: Olea Europaea (Olive) Oil, Glycine Soja (Soybean) Oil, Cocos Nucifera (Coconut) Oil, Zea Mays (Corn) Oil, Helianthus Annuus (Sunflower) Seed Oil, Butyrospermum Parkii (Shea Butter), Aqua, Sodium Hydroxide, Fragrance. May contain FD&C color.
Please note that due to the handmade nature of this soap, color shades and swirl styles may slightly vary. Each bar is unique!
Makes my skin feel so clean and soft.
Skin feels smooth, moisturized and smells very light and clean.