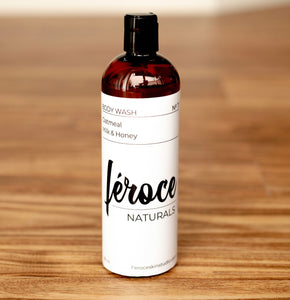 Reinvigorate your senses as you lather in the exquisite Féroce Oatmeal Milk + Honey No. 07 Body Wash 16oz
Our Oatmeal Milk & Honey Body Wash provides long lasting comfort to ultra sensitive or irritated skin types.
Cruelty Free
Esthetician Approved
Paraben Free, Propylene Glycol Free
Ingredients List:
Water, Germaben, Aloe Vera, Argan Oil, Coconut Oil, Avocado Oil, Disodium EDTA, Plantapon, Sodium Chloride, Citric Acid, Germaben

How to Use:  While in shower, pour a small amount of body wash onto sponge or washcloth.  Lather the soap, gently rub over body then rinse.
Oatmeal Milk & Honey
The oatmeal milk & honey body wash was incredible made my skin extremely soft and moisturized. Thank you 🙏🏼 Diana your products are heaven sent!!