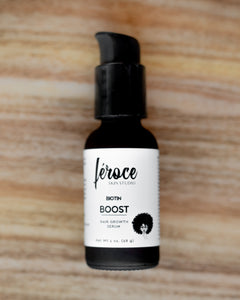 Boosts appearance of smoother, stronger hair
Helps improve dryness & provides scalp moisture
Nourishes hair for shine & thicker appearance
This protein-rich hair serum will provide all the benefits to revitalize the scalp and boost the appearance of fine, dull hair. With daily use, our amino acids in this biotin-boosted serum moisturizes the scalp and helps improve the appearance of fuller, thicker hair.
Moisturize and nourish with natural antioxidants and enzymes for shiny, volumized hair. Herbs included: Sage, Chinaberry, Red Seaweed, Turmeric, Basil, Holy Basil, Yuzu
Glowing
I noticed since using the CC Serum my skin has a glow . I'm excited to see continuous results
AMAZING RESULTS!
I bought this product 2 weeks ago and I am already seeing results. Thank you so much for Introducing this product to me. I LOVE IT! I DEFINITELY recommend it to everyone!
Postpartum hair loss
This product has helped me so much after experiencing post partum hair loss. It started as a gift from my best friend and now its apart of my daily routine. Thanks Di!
Speedy delivery
Always a pleasure, dealing with FÉROCESKINSTUDIO!! Thank you for a great product!