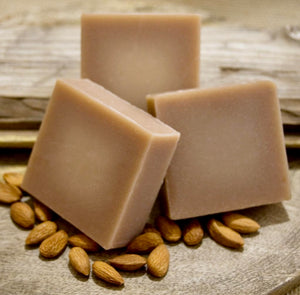 Almond Coconut Cold Process Soap
Creamy coconut milk with a hint of warm vanilla, this is the perfect bar for summer or anytime you need a tropical getaway! 
As with all of our soaps, the base oils and butters offer a rich, thick luxurious lather and cleanse the skin 
Description: Roasted almonds blended with tropical coconuts.
Ingredients:
Olive Oil
Soybean Oil
Coconut Oil
Corn Oil
Sunflower Oil
Organic Shea Butter
Water
Sodium Hydroxide (Lye)
Fragrance
INCI: Olea Europaea (Olive) Oil, Glycine Soja (Soybean) Oil, Cocos Nucifera (Coconut) Oil, Zea Mays (Corn) Oil, Helianthus Annuus (Sunflower) Seed Oil, Butyrospermum Parkii (Shea Butter), Aqua, Sodium Hydroxide, Fragrance. May contain FD&C color.
Please note that due to the handmade nature of this soap, color shades and swirl styles may slightly vary. Each bar is unique!
Coconut Almond Soap
This soap is amazing! Smells wonderful and leaves your skin very hydrated.