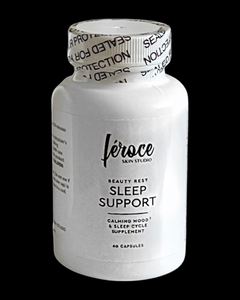 A calming blend for a better night's sleep 
KEY BENEFITS
Formulated with calming natural extracts †

Allows to fall asleep easier & quicker †

Improves overall sleep quality †
Beauty comes from more than just skin care. Rejuvenate your appearance and attitude with our beauty rest blend. Specially-formulated with calming extracts, such as Melatonin, Chamomile and Lavender, our supplement provides a gentle sleep support.
Our Beauty Rest Sleep Support includes the herb, Valerian Root, and amino acid, L-Tryptophan, to overall help balance mood and sleep cycle. The Magnesium helps quiet the body and mind to fall asleep easier and quicker when you are ready to relax. Appear well-rested and fresh after taking control of your sleep.
This works great!
Coming from someone who has trouble sleeping ALL the time, this product is a huge help. I get a full sleep and never wake up in the middle of the night. Highly recommend!