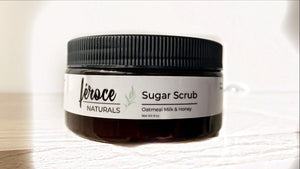 Say hello to our Oatmeal Milk +Honey Sugar Scrub. Oatmeal Milk & Honey, are  one of nature's clever gifts. And we've blended them together to bring you our delicate exfoliating sugar scrub to help skin feel softer and oh-so-smooth 🍃
Key Benefits:
Gently exfoliates to reveal skins natural glow

Restores healthy hydration

Rich in trace minerals that detoxify and rejuvenate the skin

Suitable for all skin types

Contains healing Vitamin E,

Hempseed oil, Sunflower oil

Jojoba oil, Sweet Almond oil

Non-toxic, safe, effective

Artificial fragrance-free
How to use
Begin your pamper session with a warm bath or shower. This helps to open pores so you can get the full exfoliating benefits.

Scoop out a generous amount of our Oatmeal Milk & Honey Sugar Scrub and start massaging it into your skin, working your way up from your feet to your neck.

Take your time rinsing it all off and enjoy skin that feels softer and smoother.