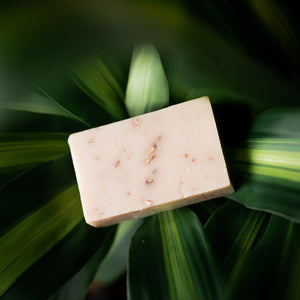 Caring for your skin is essential to aging and health. But pampering it shouldn't have to take hours. Skin loving ground oatmeal, coconut milk & lovely golden honey make for perfect ultra-luxurious suds. As with all of our bars, the base oils and butters offer a rich, thick luxurious lather and cleanse the skin perfectly. Honey is known to condition & moisturize the skin. It is also a natural humectant (draws moisture from the air to the skin & helps retain the skin's moisture). 
Oatmeal Milk & Honey: contains ground oatmeal as an exfoliant.
Ingredients:
Olive Oil

Soybean Oil

Coconut Oil

Corn Oil

Sunflower Oil

Organic Shea Butter

Water

Sodium Hydroxide (Lye)

Ground Oatmeal

Fragrance
Pro Tip: Make the most out of your soap! Cut your soap in half & it will last longer. Don't let your bar sit in a puddle or sit in the constant flow of water.
Oatmeal Milk & Honey Soaps