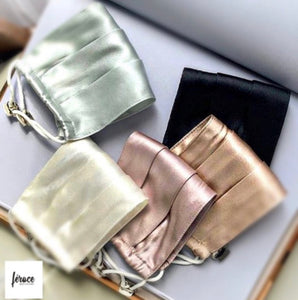 Satin Face Mask
We're always wearing our face masks when we leave the house these days, but we want to wear something cute, and we like to make sure that our mask matches our outfit.
The maskacne that is appearing on our faces is less than pleasant.. One of the popular questions that is being asked these days, is 'How can I protect my skin underneath my cloth face mask?'
Since we turn to satin pillow cases to protect our skin and give our bedrooms a more elevated touch, it only makes sense to grab silk or satin masks if you're struggling with maskne. Plus, they just look so pretty, who could resist?
Hand wash cold

Filter pouch opening to insert an optional filter (filter not included)

Adjustable soft-touch ear loops

Ultra-soft silky satin - ideal for sensitive skin
   •   Three Layer fabric
Satin Face Mask
This mask is so soft and non-irritating to the skin. The material is light, cooling, and did not bother me behind the ears. When the black satin comes back in stock, I am going order myself another one.