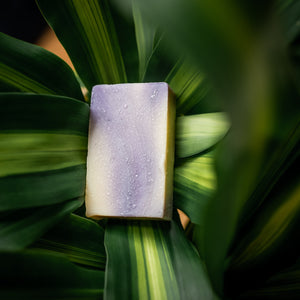 Lavender Cold Process Soap
Our Lavender bar is anything but basic. Swirls of creamy oils and butters offer a rich luxurious lather, combine these with calming lavender essential oil and you have what dreams are made of. Seriously!
Lavender is commonly used for relaxation and stress.
Our cold process lavender soap is loaded with anti-oxidants and vitamins. It has no sulfates, parabens, preservatives or petroleum products. Our lavender soap is perfect for anyone looking for a healthy alternative to using harsh chemicals on their body
Ingredients:
Olive Oil

Soybean Oil

Coconut Oil

Corn Oil

Sunflower Oil

Organic Shea Butter

Water

Sodium Hydroxide (Lye)

Fragrance
Pro Tip: Make the most out of your soap! Cut your soap in half & it will last longer. Don't let your bar sit in a puddle or sit in the constant flow of water.
The most amazing soap I used in a long time made my skin feel so silky and smooth