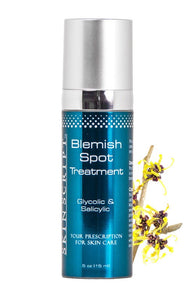 The Blemish Spot Treatment is a spot treatment to clear the pores and alleviate breakouts.
Soothes skin irritation
Has anti-inflammatory-like properties
Clarifies breakouts
Assists in boosting hydration levels
Limits scarring
Works quickly and has corrected many target areas for me. This entire line has worked wonders for me and the change is exciting
Best skin products I've ever had!
When it comes to the tea face mist the cc serum the oil cleanser the charcoal mask and the face scrub let me tell you guys my skin has been not only glowing but brightening up I suffer from real bad acne scars from when I was younger imma let my hood side out so you guys know this is a REAL ASS REVIEW I finally found something to fade my MF spots lol also di is the best she will literally know exactly what you need just from non filter pics. TRUST THE PROCESS take it from someone who is seeing results because of how bad my skin is my skin DID not start clearing overnight I had to stay CONSISTENT wich is what im doing with also a chart that she personally made for me so if you come on here and feel like you need a little extra more instructions make sure to ask miss di 😉 five out of five wouldn't change my review for nothing looking to try other products as well in the future and last but not least the night time detox cream 😊 trust me for people with bad acne scars and just bad pores or bad skin period every product I named I say give them a try my skin is rejuvenating and im loving it!
Blemish Spot Treatment
Love this stuff ! Helps with mask acne and blemishes ! Helped lighten my acne scars !!!!!! 10 stars